In 2012, I was your average white middle-class young urban self-employed geek. Then I decided to volunteer in a prison teaching Nonviolent Communication, met my future husband (that's us below), and my life changed forever.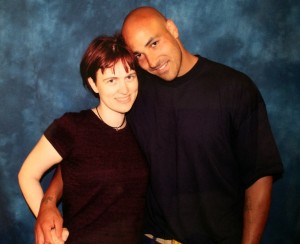 I could no longer ignore what so many of us are able to leave out of sight and out of mind. I live every day with the wrenchingly painful effects of prison on the families and loved ones of those who are incarcerated. I see and feel the scars it leaves on the hearts and minds and souls of everyone it touches. It is not a happy place.
When I stand in line at the end of the visit, waiting to leave, I watch the other visitors. I can feel their anxiety, the pain of saying goodbye again, and leaving the people they love in this place of anger and desperation. I feel it too. It never gets better.
So I know the human cost of the system we have. And I've heard justice is supposed to be blind, but that makes no sense to me. I'm not blind, and I can see this doesn't work. These are people. When you begin to study violence and social problems, you find cycles and patterns that are intergenerational, cultural, and deeply contextual. These are not people who are "bad". These are people. And locking them up creates pain on top of pain. It doesn't address the reason crimes happen–reasons that are complex and need attention, not punishment.
I was born in Oregon and I've lived here most of my life. I've always been proud of that–but seeing just how not-progressive our criminal justice laws are has made me sad, frustrated, and angry. We can do better.
I want people to realize where Oregon stands compared to the rest of the country, and the world–and what the road forward might look like to reform our state's laws and policies. I want to support social healing and re-weaving the fabric of our communities so people from all classes and backgrounds can be safe, well, and happy.
If you have any questions or comments, send me an email.
More of my writing can be found at emmaarbogast.com.